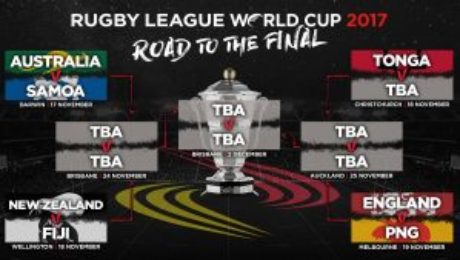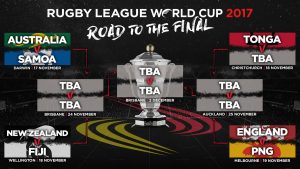 LIVE – PNG Kumuls v USA Tomahawks
2:30pm 12 November, 2017
National Football Stadium, Port Moresby
Last Pool C Game before the knockout stages kick in.
PNG need to win to confirm their place in the Quarter Finals.
Lachlan Lam, son of former Kumul Captain, Adrian Lam, makes his debut for the PNG Kumuls at Five Eighth.
The National Football Stadium is packed as the final Pool C match between the @PNGKumulsRL and USA is sold out. This should be some experience for the boys from the USA!
Moses Meninga is also making his debut for the PNG Kumuls team.
The players are making their way out onto the field for the National Anthems of PNG and the USA.
____________________________________________
FIRST HALF: Referee Adam Gee blows the whistle and the USA kick off. PNG are running into a stiff breeze.
PNG put the last tackle kick through, USA duff it and the Kumuls regather with 6 to go. Strong USA defence keeps the Kumuls from scoring.
Justin Olam makes scores a 90 metre individual try but was called back by the ref as a knock on.
USA put in a solid set of six for a 50m plus gain. PNG back in possession.
Lachlan Lam scores on debut off a brilliant break from Segeyaro. Rhyse Martin kicks it over the black dot.
#PNG 6 v #USA 0
Slick hands from Segeyaro to Lam, Lam to Martin out to Justin Olam who scores on the wing. Martin misses the kick from the sideline as the wind catches the ball and drags the ball across the face of the goal.
PNG 10 v USA 0
Moses Meninga made the initial break and offloads to Segeyaro, who shows a clean set of heels to claim a 60m try. Martin claims another 2 pointer.
PNG 16 v USA 0
Lam dummies and goes himself. Lam goes in for no. 2 on debut! Martin Kicks the Extras.
PNG 22 v USA 0
USA put together a great set and looked to score several times but Moses Meninga intercepted the ball. The ref calls 20 minute drink break.
ROD GRIFFIN TRY! The Kumul legend shows them how its done! Rhyse Martin adds a further 2 points.
#PNG 28 v #USA 0
USA make a break and get to the 20 metre mark and PNG concede the penalty. USA relieve the pressure on PNG by dropping the ball.
Justin Olam nearly drops it cold but manages, just, to regather.
4 mins of play in the first half.
Stargroth Amean, steps and weaves his way through traffic to score under the goal posts. Rhyse Martin successfully adds another 2 points as the half time siren sounds.
PNG 34 v USA 0
HALF TIME: PNG 34 v USA 0
_____________________________________________________
SECOND HALF:
Second half has kicked off. USA are in possession. They put the kick through, Kumul Captain, David Mead, caught the ball and ran 80 metres to score an individual try. Mead is now the 3rd highest try scorer with 4 tries. Martin converts.
PNG 40 v USA 0
Another great Kumul, David Westley, on the bench as the trainer looks after Garry Lo's ankle. Lo now has the injury iced up so he won't be back for the remainder of the game.
USA intercepted the ball and are now at the halfway line. #Kumuls penalised for leaving too early. #USA now at the 20 metre line.
USA are dragged over the line on tackle zero.
Kumuls make the break but Rhyse Martin pushes the pass and the USA are back in possession.
Stargroth Amean busts through the Hawks line and offloads to Watson Boas who scores to the right of the post. @rhysemartin kicks his 7th goal for the day.
Rhyse Martin offloads to Nene McDonald scores in the corner for the #PNGKumuls. Rhyse Martin kicks it beautifully from the sideline.
#PNG 52 v #USA 0
Justin Olam scores again in the corner! Martin kicks perfectly from the sideline to again convert.
PNG 58 v USA 0 and 12 minutes left to play.
#USA looked to be in but David Mead broke 323 million American hearts by holding the USA up over the line.
Justin Olam scores a hat trick for the day! Martin kicks 10 from 11.
PNG 64 v USA 0
FULLTIME: PNG 64 v USA 0
#PNGKumuls rack up 11 tries in their victory over the #USA who failed to score. A PNG Kumuls record score #PNG 64 v #USA 0.
#PNGvUSA #RLWC2017
Man of the Match: Lachlan Lam
LIVE RUGBY LEAGUE WORLD CUP MATCH PNG v IRL
The players make their way on to the ground for the anthems of both countries.
There is nothing like your country's national anthem, sung beautifully, to get you focussed on the game at hand.
Let's Go Kumuls!
FIRST HALF – WE HAVE BLAST OFF!
Ireland have kicked off and early indications are this is going to be a bruising encounter.
Kumuls have kicked out on the full on the last tackle.
Ireland up fast in defence saw Watson Boas cough up possession. Ireland have the ball.
PNG looking at sixes and sevens in their own in goal area.
PNG knock on and Ireland have scored after PNG failed to ground the ball.
PNG 0 v IRL 6 – after 6 minutes.
PNG have stepped it up a gear in defence. Wrapping up the Ireland attack.
Watson Boas misses the last tackle kick. Ireland back in possession.
Ireland penalised for hands on the ball in the ruck. PNG unable to take advantage.
PNG seemed to be suffering a little from nerves. They need to compose themselves and settle the play.
Garry Lo plays the ball to Minoga who goes within centimetres of the line. Ireland concede penalty 10 metres out.
GARRY LO IS IN TO SCORE!
PNG 4 v IRL 6 KTC.
Rhyse Martin's kick hits the post and bounces back in play. The touchies wave it away.
Willie Minoga makes a beautiful break and has Katio Otto to his left and in the clear but doesn't give it.
Page makes a 30 metre break. PNG put up kick, Nene McDonald up batted it back to Martin who dropped it missing a sure try.
PNG again look to score another sure try but it is passed straight into the hands of an Irish player.
Some brilliant PNG play but they need to settle it, make sure of it. Especially early in the tackle count.
Nene McDonald ducks and weaves his way for another PNG TRY!
The kick from Rhyse Martin goes across the face of the goals.
PNG 8 v IRL 6.
Justin Olam with error no. 8 from the Kumuls.
PNG strip the ball. Concede penalty to IRL. McCarthy is repelled on the line. PNG defence force IRL to knock on
David Mead coughs up the ball from a bruising Irish two man tackle.
The Irish knock on. Kumuls get the feed.
Segeyaro kicks on the 4th but was too deep. Half time siren goes.
HALF TIME PNG 8 v IRL 6.
HALF TIME COMMENTARY.
While PNG were the dominant team through the first half, their game was riddled with unforced errors. Sure tries went begging with pushed passes and dropped ball. They need to compose themselves, settle the play, complete sets and force repeat sets.
Though the score looks tight I expect that PNG will extend their lead over the fatigued Irish.
SECOND HALF:
SECOND HALF Kick off from David Mead! Lets Go KUMULS!
PNG kick the ball into in goal. Lo claiming to have grounded it. Video Ref calls Lo's foot on dead ball line.
Irish cough up the ball into Nene McDonald's hands and knocks it on.
Irish knock on. PNG feed the scrum.
PNG on the attack 20 metres out. Wellington Albert with a cracking run. Last tackle grubber PNG tackle IRL in goal area.
IRL win the penalty after PNG forced the ball down in the play the ball. IRL on the attack 5m out.
IRL kicked in goal, Segyaro recovered and ran it safely into play.
PNG give away penalty. 30 metres out. They look like they would score but ball popped up in the tackle into PNG hands.
PNG are not playing with any structure.
Ase Boas puts up the last tackle kick. Ireland safely take the ball 10m out.
Garry Lo gets the ball and drops it on – on the first tackle.
PNG get penalty. 10m out. David Mead at speed but IRL keep him out.
Ase Boas puts the predicable kick through but the Irish are on it. IRL force it out. PNG get line drop out.
Got to give it to the IRL. The defence is doing its job today. PNG have all sorts of problems trying to penetrate.
17 minutes play remaining. #PNG 8 v #IRL 6. IRL 10m out.
Last tackle from kick into PNG hands. PNG work it out the 40m line – and turn it over.
PNG in possession and on the run! 3rd tackle 35m from the try line and PNG's Ase Boas puts through a forward pass.
Only 2 points the difference and 12 minutes left to play. David Mead flies to take IRL kick.
Error no 17 from PNG. IRL back in possession.
Baptiste makes break. Next play sees Lo with a forward pass to the winger for what would have been a sure try.
PNG make another error. 7 minutes left to play. PNG up by two.
Regardless of the outcome but this has been a courageous match from the @Irelandrl team.
IRL drop the ball. PNG scrum feed. Can PNG complete an error-free set? Yes. Boas kicks it into touch. 3 mins to go.
The Irish drop the ball and Watson Boas SCORES!
PNG 12 vs IRL 6. 1 min remaining KTC.
Ase Boas kick is successful. PNG 14 v IRL 6
FULL TIME SCORE: PNG 14 v IRL 6
That was an error riddled match from PNG and they were incredibly lucky to get away with the win.
IRL were outstanding. They did the basics well & nearly pulled off the biggest upset so far in the World Cup. Well done!
PNG KUMULS V COOK IS – LIVE
06/05/2017 Campbelltown Stadium, NSW AUSTRALIA
The players have taken their places for the playing of the National Anthems.
Cook Islanders doing their cultural version of the Haka.
PNG v Cook Is Test Match kicks off!
PNG concede a penalty 10 metres out from their own line after pushing the Cook Islands into touch after the referee called held.
PNG were lucky to survive the pressure from the Cook Islands after that penalty.after a Cook Is try was disallowed for being offside.
PNG scored a penalty for a Cook Is dangerous throw and kicked for touch.
Woohoo! TRY TIME for PNG with Adex Wera scoring first blood for PNG! #PNGKumuls #PNGHunters #pacifictest
PNG 6 v Cook Is 0
Cook Islands hit back immediately but get held up over the line.
Cook Islands try again but drop the ball over the line.
PNG in again! Wartovo Puara try and Ase Boas kicks the Extras!
PNG 12 v Cook Is 0
Stargroth Amean pulls off a try saving tackle on one wing only for the Cook Islanders to cross on the other wing.
PNG 12 v Cook Is 6
12mins to half time
PNG Coach, Marum won't be happy with lazy defence seeing the Cook Isanders cross just 4 mins before half time tying up the scores.
PNG 12 v Cook Is 12
Richard T Pandia's hard head has corked Alex Glenn's thigh with 95 seconds to half time. Richie is fine. Alex not so much!
HALF TIME SCORE PNG 12 v COOK IS 12
Half Time comment:
Conceding too many metres in defence and not enough line speed is putting the Kumuls under unnecessary pressure
SECOND HALF:
Ase Boas kicked the ball trhough with two PNG chasers but unfortunately the ball  ran deep.
Stargroth Amean TRY! Magic pass from Watson Boas. Ase Boas adds 2.
PNG 18 v CI 12
A fumbled ball from a Cook Is kick on PNG's own line sees Cook Island's Jack Daniela score. They failed to convert.
PNG 18 v CI 16
Adex Wera held up over the line and had the ball stripped from him and in a set play from dummy half Stargroth Amean does what Wera came close to doing.
ffin leading from the front with a magic offload. Followed up by a brilliant passing game has them 10m out on the last tackle.
A dummy half run from Butterfield who offloaded to Nixon Put who goes over for another PNG TRY! Ase Boas makes it another 2.
PNG 30 v CI16 17 mins to fulltime.
10 minutes to fulltime.
Henry Wan will be talking about the one that got away who failed to ground the ball. So close!
5 mins to fulltime. Cook Is in possession 5 metres out.
Cook Is score with score with 2 minutes to go.
#PNGKumuls 30 v CI 22
Full time siren sounded  PNG 30 v Cook Is 22 with a penalty kick to come from Ase Boas
e Magic Boot doesn't miss! PNG WIN the Pacific Test!
FULLTIME SCORE: #PNGHunters 32 v CI 22
Congratulations to the Pacific Test Man of the Match: Stargroth Amean.
FULL TIME COMMENT:
The #PNGKumuls win turned on the back of the leadership of former Kokomo and Kumul Captain, Rod Griffin, who got the defensive line happening when it mattered most. #PacificTest