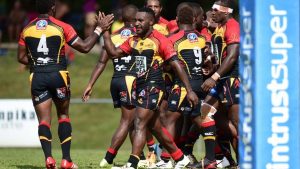 Capras, Ken TOFILAU, opened proceedings in front of his home crowd at Rockhampton with an uncoverted try 8 minutes into the match.
Ase Boas scored the first points in the Hunters 2017 Intrust Cup Championship campaign with a penalty goal, unconverted try at the 16th minute and a converted try at the 28th minute.
…
HALF TIME SCORE: PNG Hunters 12 vs Capras 4.
2ND HALF: Hunters looked set to continue the first half assault, with William Aquila scoring again just three minutes into the second half. The try was scored off a pin-point Bland Abavu kick into the corner. Boas missed the conversion. PNG 16 vs Capras 4.
But the Hunters took their foot off the pedal and Capras scored off a play from an earlier Kirisome break, Tofilau going in to for his second try for the day. PNG 16 vs Capras 8.
Silly penalties costing PNG positional play, and some half-hearted Hunters defence resulting in another Capras try. Tofilau bagging his first hat-trick for the season. PNG 16 vs Capras 12.
At the 57 minute mark, Capras scored again. The last three tries were scored on exactly the same blade of grass. This time Justin Tavae scored the four pointer. Same Hunters defensive players conceding the line.
The score was locked up at 16 all with 21 minutes to go.
With 11 minutes to go, Boas kicked a penalty goal to put Hunters 2 points in front. PNG 18 vs Capras 16.
The last ten minutes was characterised by both teams pressuring the other. Boas peppering the tryline with some beautifully placed kicking, but the Hunters were unable to capitalise.
It was Willie Minoga in the dying minutes of the game who made a crucial break, of an individual play, who scored the game winning try. Boas missing the kick.
FULLTIME SCORE: PNG Hunters 22 vs Capras 16.
My man of the match goes to Ase Boas. His kicking game proving the difference in a game where the Capras failed to convert a single try. His on field kicking game also demonstrated clear thinking and strategic maturity, which kept the pressure on the opposition.
If the Hunters are to make a concerted effort at making this Championship theirs they are going to have to work on creating a more disciplined, more aggressive defensive line, clean up the error count and learn not to nod off mid-game.